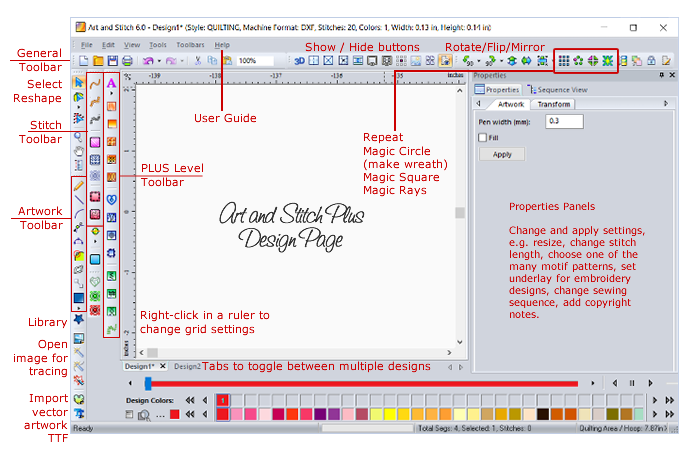 Miscellanous features:
Print Catalog: a powerful function to show and print all designs (all quilt / embroiery formats) on paper. This function will print thumbnails and file names of all designs in a folder. Great to let your customer choose a design. Or print as a PDF. Description how to do that is in the User Guide.
Export image, very helpful to email an image of your design to your customer, or use the images to place on your website.

Page Preview to influence the location of the design on the printout.

Print panto's at actual size

Print on large size paper if such a printer is installed

Let the powerful "Browser" find and show all quilt and embroidery designs in all formats on your computer. Thumbnails showing in the Browser window will make it easy to find and open the pattern you knew you had somewhere.
Designers: Save a pattern in one step in all quilt formats or in all embroidery machine formats.
Add copyright notes to your patterns.
Layout a full quilt and send to your longarm system block by block or row by row.
See stitches in 3D view.
Use the Sew Simulator to see how your machine will sew the result.
In Properties Panel and Sequence View you can change all stitch settings of a selection, lock / Show/Hide designs, change the sewing sequence.
Open, Merge, Customize existing designs. No need to buy extra software:
Art and Stitch can open and save in the major longarm quilt formats and the major embroidery machine formats. See list on page Supported File Types - link in pink tab above.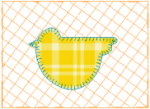 TIP:
Before changing your Windows operating system be sure to DEACTIVATE Art and Stitch via menu Help > License Activator.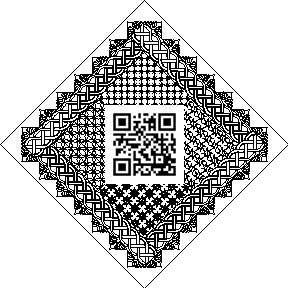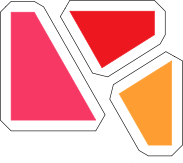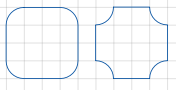 Vector Based Designing: true vector drawing tools (pen, line, curve, bezier, 3 pt arc) make it easy to draw your own artwork by clicking from point to point, right-click to finish.
The advantage of vector based designing is not only the ease of drawing (clicking from point to point) but also the ease of editing (simply reshape by moving points / anchors) and the high quality: vector based designs can be scaled without limits and will have nice smooth outlines.
Short learning curve: the user friendly toolbars, organized in sets of tools belonging together make the software intuitive. Hover the mouse over a button and a tooltip will show the name, function and how to use the button. The User Guide is inside the program and tutorial videos can be found on the Art and Stitch "Academy" web pages. Link in white navigation bar above.


Overview of Features in Art and Stitch (Page 1)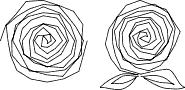 Drawing / vector artwork:
Vector drawing tools to create your own artwork - from scratch or by tracing a background image.
3 types of Auto Trace
Magic Wand: vectorize Lines
Magic Wand: vectorize shapes (Autodigitizing)
Outline wizard: vectorize an image
Simplify Smoothen to perfect the result of the Auto Trace functions.
Autoshapes: Circle, Rectangle, Pentagon, Triangle, Hexagon and Spiral maker. Rounded rectangle: negative values create inside corners.
Power Copy: select an object and automatically keep pasting in various sizes. Great to use in meandering designs and for so called P2P (Point to Point) triangular designs.
The Library contains more than 575 vector artwork designs. A valuable start to create quilting and embroidery designs. You can save your own design elements in the Library too for easy access of frequently used patterns. Click here to download the printable catalog of the artwork in the Library of Art and Stitch.
Import artwork from popular vector applications: Import Ai, WMF, EMF , PRE and SVG (for example EMF's from ElectricQuilt), as well as Brother Scan n Cut FCM format.
Export vector artwork as Ai Adobe Illustrator, WMF, EMF and SVG format as well as Brother Scan n Cut FCM format.
Easy and advanced editing by moving points / anchors. Press H to toggle between normal view and hairlines view in Reshape mode.
Transform: several ways to transform artwork and stitch based designs, 10 envelope shapes.
Distortion: can turn designs into zigzaggy or wavy patterns or into a sphere,
or turn a spiral into a rose!
With the "Free Distort" function you can squeeze a design into a not so perfectly pieced block.
Create a wreath with the Magic Circle. Dialog windows of Magic tools can be resized, for better precision.
Or use the Magic Square to automatically copy, paste, flip and mirror 1 element into a block of 4.
Let the Magic Rays tool put rays around a simple closed shape.
Use the Repeat function to create pantos / E2E's and to see how patterns form a secondary pattern when repeated. Print designs (pantos) at actual size.
Interlocking Preview to see where details need to be added for a nice design.
Type notes on the Design Page (great for instructions, class handouts, pantos). Use different font sizes, colors, or rotate - helpful for garment patterns.
Turn True Type Fonts into vector artwork.
With the Design on Path function you can let your patterns follow a path. You can create your own paths too. With the new "Snap Together" option in our top level, the Design on Path function makes it easy to create a complex continuous design.
Easy Slice method and function Add Seam allowance:
this makes Art and Stitch an allrounder.
Make your own patchwork templates for piecing!
Baste around a shape (e.g. embroidery in a quilt) using the Echo > Create Boundary function. Makes it easy to fill around embroidery or applique in a quilt.
The dream function Creative Fill lets the program fill a shape by cutting it out of a complex continuous design.
The Creative Fill function can also be used to fill around a shape (for example an applique in a quilt).
You can create and save your own Creative Fills.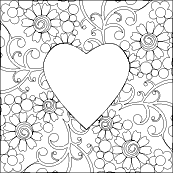 Apply Stitches:
Fill shapes with Motifs - more than 300 patterns to choose from. It's a wonderful alternative for stippling. It is even comparable to the micro stippling of quilt artists.
Or use Motifs for lines and curves. Apply the new Sashiko motif to straight lines for an unbelievale result - like it was hand stitched!
Apply various types of (cross) hatching.
Apply stippling to fill a closed shape. Different settings, from traditional random stippling to a modern type stippling.
Create and save your own Motif stitches.
Use Motif (Hatch), Echo or Stipple fills around a shape, leaving the shape itself open. Great for trapunto effects or to go around applique or embroidery in a quilt.
Create Applique designs in seconds. Use various stitch types, including Motifs for applique. Not only for embroidery machines, but also for longarm systems! Open applique fabric to see how the finished design will look. AccuQuilt Go shapes included in the Library, as vector artwork in True Size!
Create Crazy Patchwork using the many available Motif stitches as outline stitch.
Create Blackwork patterns with the built in blackwork motifs: small for embroidery patterns and yes, large is really fun on a quilt!
Apply echo effect around a shape. Geometric echo allows negative values, to fill the shape.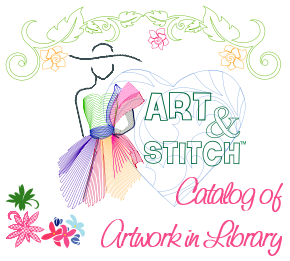 mostly BASE Level