Magic Cross Stitch. Cross Stitch is so much fun and it adds another dimension to machine embroidery. With the Magic Cross Stitch tool you "fill" selected closed shapes with cross stitches. Choose the number of repeats and the size of the crosses. In menu Tools you will find the Cross Stitch Wizard: another way to create cross stitch designs, by converting an image into cross stitches.
Calligraphy Satin: New in our top level version 6. With Calligraphy Satin
you can apply satin stitches with variable width and different endings.
A professional look in no time.
Presets - Save Favorite Settings. New in our top level, the possibility to save a combination of stitch settings as a Preset, so that you can reuse it later - use it for example to create fur, or make a preset of your favorite Calligraphy Satin settings.
Split Wizard. A quick way to split designs that are too big for the sewing field of your embroidery machine into multiple designs. Automatically added basting lines make rehooping a breeze.
Create custom thread chart. Make your own color palette, for example using the thread colors you actually own.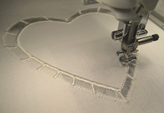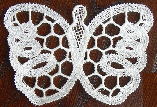 Click to see the Hardanger project featured in magazine "Designs in Machine Embroidery".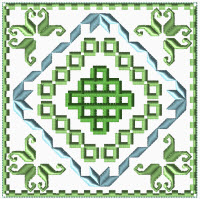 Overview of Features in Art and Stitch PLUS (Page 2)
PURCHASE Art and Stitch PLUS 7 via page
https://artandstitch.com/purchase.htm

Already using Art and Stitch Base? Then go to the same page to benefit from the
Special Offer to step up to the new Art and Stitch PLUS 7.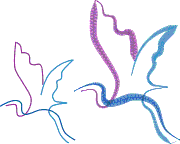 Magic Cutwork. The world's first digitizing tool to create Richelieu type cutwork designs with a few mouse clicks! No special needles required. It is as easy as selecting your artwork, clicking on this button, setting the "bridges" and pressing Enter. We have optimized all settings for the most used embroidery thread, 40 wt, but all settings can be changed in Properties Panel, tab Richelieu Cutwork, if you wish. This same function can be used to create Reverse Applique (for example to create "Mola" designs).
Magic Lace. Our second flagship function and again a world's first! Select a closed shape and click on the Magic Lace button. It will turn it into several layers with a continuous underlay that will form the netting, the base of your freestanding lace. In the Lace dialog window you can add an embellishment from the Library. Afterwards all layers can be changed if you wish in Properties Panel, to give you optimal control.
Magic Hardanger. Another flagship / world's first! A Hardanger tool that lets you easily create hardanger cutwork designs with the typical open corners. Exercises are included in the Library so you can create your first Hardanger design in 10 minutes. Warning: addictive!
Battenburg Lace. Stitch on water soluble stabilizer only. Creates "ribbon" lace. Exercises and artwork included. Beautiful!
Text / Lettering. Create text objects using one of the 41 digitized fonts included in the Embroidery Module, or convert True Type Fonts into text by typing on your keyboard. Easy controls let you move, resize, rotate individual letters and allow you to stretch and curve the text object. Special fonts for longarm quilting included.
Text effects. With several Envelope effects in the right-click menu you can be very creative with text.
Text on path. Simply fun to use and even more fun is to create your own paths!
Monogramming. Two different Monogram styles are included and the Embroidery Manual will show extra creative monogramming methods. 12 beautiful monogram styles added, some of which are complete embroidery designs.
Quilt Labels. Ready made labels in the Library and the wonderful text functions let you make quilt labels with ease.
Font mapping tool "Font Creator". By dragging and dropping you can turn a purchased digitized alphabet into a keyboard font. Then it can be used with the Text/Lettering tool and you can simply type your text instead of importing separate letters and characters.
Auto-Stitch Wizard. Creates a vector based design on the basis of a good (solid colored) bitmap. Vector based means editable with the Reshape tool!
Multiple Angle Fill. With this tool you can set various stitch directions in one object (Select an object, take this tool, click and drag in the desired angles, then press Enter to apply) so that the stitches follow the shape of the object: a "column digitizing" result without the hassle of column digitizing.
Fur. "Jagged Edge" settings to create furry designs in seconds.
Color Blend Fill. To create shading effects in a selected object by blending two colors. In Properties Panel, tab Gradient, you can choose different shading effects. With this tool you can set multiple angles at the same time.
Fancy Fill / Embossing. Applying this Fill to your selected closed shape will give an embossing effect. Over 300 industry standard fancy fills are included and you can create your own too. You can even apply a gradient in a Fancy Fill.
Spiral Fill. A very special effect! Select a closed shape and take this Spiral Fill tool, set the angles and press Enter. This effect is also great for longarm quilters by simply saving it in one of the longarm quilt formats.

These features are in our top level Art and Stitch PLUS. Not in the BASE version of Art and Stitch bundled by longarm systems Pro-Stitcher or Bernina Q-Matic.
Photo-Stitch (Color - for embroidery machines) . Turn a photo of your (grand) child into a color embroidery design - priceless!
Photo-Stitch programs for embroidery machines are not new in the market, but a type of Photo-Stitch made for longarm systems.. that's a whole new ball game:
Photo-Stitch Longarm - turn a monochrome black/white image into a continues line design for longarm systems: it's almost too good to be true. Your hero, your loved one or your favorite artist on a pillow. Any size. Images comparable to monochrome images used for vinyl cutting work like a charm.